BIO
Keith Haring was born in Reading, Pennsylvania, in 1958. In 1978, he moved to New York City and enrolled in the School of Visual Arts. He came to prominence in the early 1980s New York art world through his white chalk drawings on the unused advertising panels in the subway system. Haring created hundreds of these public drawings in rapid rhythmic lines on the black matte paper that covered the panels.
Throughout his career, Haring was committed to making his artwork available to the widest possible audience. In addition to sculptures and drawings, he created murals and prints and designed playgrounds and public works for children's hospitals and orphanages. Haring died of AIDS-related illness in 1990. Though only 31 years old, he had earned the respect of an international audience for his role as an artist and social activist.
Keith Haring's work is collected by museums around the world, including the Museum of Modern Art, New York City; The Andy Warhol Museum, Pittsburgh; The Museum of Modern Art, Rio de Janeiro, Brazil;
The Georges Pompidou Centre, Paris, France; the Stedelijk Museum, Amsterdam, the Netherlands; The Museum of Art, Kochi, Japan; and the Museum of Contemporary Art, Sydney, Australia.
ART
The simple shapes and bright color of Untitled (Ringed Figure) are reminiscent of Keith Haring designed murals, playgrounds and public works for children's hospitals, orphanages and day care centers around the world. He used images that were easily recognized and media friendly, such as the radiant child, the barking dog and the flying saucer. He used them repeatedly in a variety of media, including sculptures, drawings, prints, posters and murals. There's a feeling of energy and motion, which is created by the bended knees, that make the figure feel like it's about to spring forward.
ABOUT THE ARTIST
ABOUT THE SCULPTURE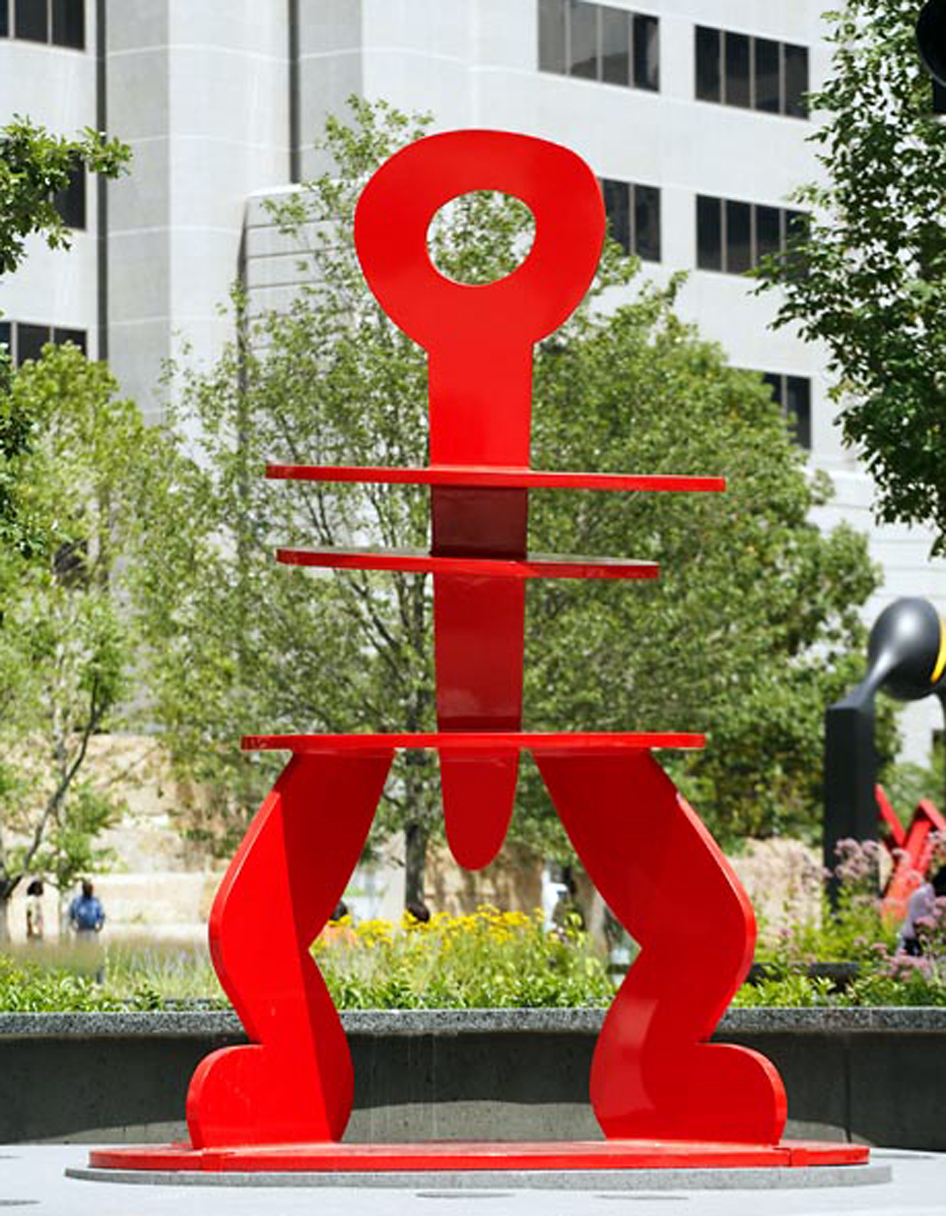 Untitled (Ringed Figure), 1987
Painted Steel
144″ x 109.75″ x 72″
MAP
Discover all of Citygarden's beautiful sculptures in our interactive map.
Open Map